News and Events

Wu Forums

Wu Features

Wu Resources






Welcome ...

Thank you for choosing to visit our web-site. This site is dedicated to the rare and beautiful form of Wu Family (Hao Style) Taijiquan.

So, if you are interested in this intriguing form of Taijiquan, please free to explore our site.

We hope you enjoy your visit !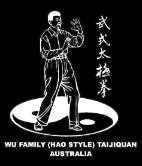 Copyright © 2001 John Muir. All Rights Reserved.
Contact webmaster@haotaijiquan.zzn.com for more information.